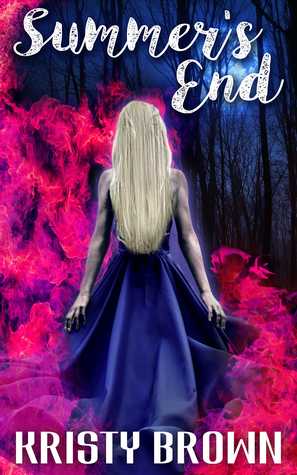 Summer's End
She wakes up in hospital, badly burned with no memory.
He's been trained to kill her before she burns the world to ashes.
When they finally meet, will he be able to take her life now that he's started to
feel for her?
His fate is already written.
The prophecy is already set…
Love between them is forbidden.
🌟🌟🌟🌟🌟
Where to begin on this book..... I loved it! I got a chance to read some of it on Wattpad and was excited to see what was going to happen next and Kristy did not disappoint. She did an incredible job with these characters. I love Summer and Dooney because they are both strong characters that are fighting against what they are feeling.
Summer remembers nothing about the fire but she has her friends who help her out. She knows she was in a fire but has no idea why or who started it. That is until she sees Dooney tall, dark and mysterious. He brings back memories of a time she can't remember but she knows must have happened otherwise why would she be having those flashbacks.
As Summer comes closer to finding out the truth of who she is and who Dooney is she will have to make some very hard decisions and she is not sure she can make them. Will Summer chose the right thing or will she chose the wrong thing?
Hi I'm Kristy and I live in the U.K. I have always written short stories and poetry. I went to university to study acting which I loved, but my real passion has always been writing. So now I write the kind of stories I would have wanted to read when I was a teen. "Kiera's Quest-Awakenings" is my first ebook. There are four in the series, 'Sacrifices,' 'Perceptions,' and 'Choices.'( Muse It Up Publishing.)
My YA contemporary romance book, "Just Sam," Is available on Amazon in print & on Kindle.
"Summer's End," a YA Paranormal romance series, will be out July 2018 with 'Muse It Up Publishing.' This title will also be available in print and e-book. My dream is to have them in print someday! I love reading YA angels,vamps etc. I love my kids and hopefully one day they will enjoy my crazy tales!xx